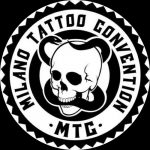 Vidéo de la Milan Tattoo Convention 2020
mars 5, 2020

mars 5, 2020

fr

https://www.killerinktattoo.fr/skin/frontend/killer/default/images/logo.svg

https://www.killerinktattoo.fr/
La Milan Tattoo Convention a célébré son 25ème anniversaire le mois dernier, nous étions donc sur place pour capturer le spectacle dans toute sa gloire tatouée !
Avec des centaines des meilleurs artistes du monde du tatouage sous un même toit, la Milan Tattoo Convention est toujours l'un des points forts de l'année - et la 25e édition n'a pas déçu !
Assurez-vous de cliquer ci-dessous pour visionner notre dernière vidéo !
Ce fut un autre grand week-end pour les artistes parrainés par Killer Ink, avec quatre de nos tatoueurs qui ont reçu des prix pour leur travail incroyable.
La première journée de la convention a vu Debora Cherrys remporter « 3rd Best of Friday » pour un super tatouage néo-traditionnel, tandis que Kindamo d'Alex De Pase's Or Noir Tattoo Gallery a reçu « 2nd Best of Friday » pour une jambe noire et grise de ouf.
Kindamo a également remporté le prix « Best Large Black & Grey » pour un autre tatouage qui déchire, avec Christos Galiropoulos en tête de sa catégorie en revendiquant « Best Small Black & Grey » avec un portrait cicatrisé du guitariste des Rolling Stones, Keith Richards.
La finale de la convention a ensuite vu Jay Freestyle couronné « 3ème Best of Show » pour un incroyable sleeve de jambe sur le thème BDSM qui combinait réalisme de couleur et art pixel.
Nous voulions aussi saluer notre bon ami Benjamin Laukis, qui a remporté le prix de la « 2e Best Medium Colour » pour son incroyable crâne et son tatouage de caractères!